When most people think about house-flipping or rehabbing real estate properties, their mind generally shoots straight to dollar signs. It certainly can be a lucrative business, but for many, it remains a confusing operation. Below, I will detail the seven phases involved in house-flipping. Knowing how the process works and what exactly a real estate rehabber does – will not only make you more knowledgeable but also make you a more informed investor.



What is a Real Estate Rehab?
A real estate rehab is when an investor purchases a property, renovates it and then sells it to make a profit. The extent of work that is required for each property differs, and as such, rehab projects can last from a few weeks to a few months. Due to the amount of time and effort put into renovating these properties, there are great opportunities to earn wide profit margins.The Seven Phases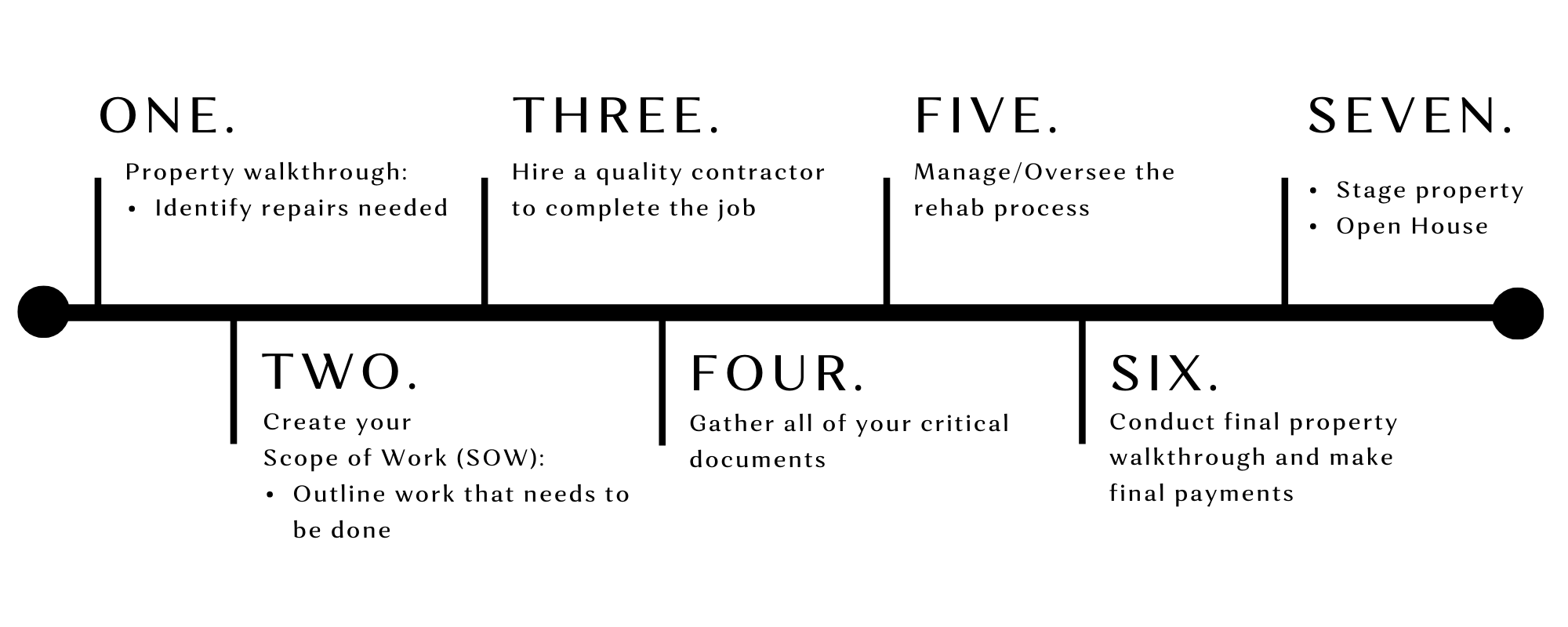 The initial property walkthrough:
The first phase of a rehab project involves you visiting the subject property. While on-site, you should take the time to identify and assess all of the repairs that will be required during construction. Having tools such as a camera, measuring instrument, flashlight, as well as anything else you deem necessary will help you to collect information as accurately as possible. Be keen about capturing images of problem areas throughout the house (mold, structural damage, etc). These images will assist you with coming up with repair estimates, and when you want to showcase before/after photos once the project is completed.During your initial walkthrough, you also want to consider whether you want to make additional improvements to the house that may help it to sell. These improvements might include things like adding hardwood flooring, adjusting the size of a window, or making expansions to a particular room.

Create your Scope of Work (SOW):
Your scope of work is a detailed plan of the work that will be completed throughout the construction process. This is drafted prior to any work being started, and it essentially instructs the contractor of all minor and major tasks they will be working on. A good SOW addresses:

All required renovations (carpet installation, light fixtures, demolitions, etc)
Your project budget – prioritize your renovations according to what is needed, wanted, or optional
An estimate of the final project cost
Identify and note every single repair that is needed! If a light bulb needs to be changed or trash has to be taken out – be sure to specify those details
Sometimes unexpected things happen during rehab projects so, be sure to budget for surprise costs.
Once you've completed your detailed scope of work, you will present it to contractors so that they can bid on your project.

Hire a quality contractor:
Quality contractors can be found within your professional network, real estate groups, job boards, and local hardware stores to name a few places. Keep in mind that when you're choosing a contractor to work on your rehab project, you're also deciding on a business partner. You don't want to just choose anyone. They can make your rehab experience a pleasant one, and unfortunately, they also can make it a horror story. So, take your time.As with all new relationships, you want to start by introducing yourself and what you're about. You can introduce yourself in a variety of ways, for example, creating a professional intro document. This document might give insight into your background, your goals, what exactly you're looking for, as well as, what the contractor can expect if they decide to work with you. Provide as much relevant information as possible – including things like your scope of work, your payment system, and things of that nature.
By taking the time to do these things, you are establishing credibility and positioning yourself as a real estate rehabber that can be trusted. Contractors also want to be assured that you are reliable and that you can potentially be a source of more work opportunities in the future.

When pre-screening contractors, some questions that you might want to ask about are:


How much experience do they have?
Are they licensed?
Are they insured?
Who works on their team?
Do they own equipment?
Can they provide referrals?
Once you've collected all of the information that you require, have them bid on your project. Assess each bid and hire a quality contractor!

Gather your critical documents:
After you have chosen a contractor who is a good fit for your rehab, the next step is to get all contracts signed. Your paperwork should include:

Independent Contractor Agreement – Overview of the entire project, including the price
Scope of Work – Complete outline of all work being completed, including materials
Payment Arrangements – When and how payments will be made
Insurance Indemnification Form – Insurance requirements for the contractor and their workers
W-9 Tax Form – Required by the IRS for independent contractors
Final Lien Waiver – Required upon completion of the project
Once you have all of your critical documents gathered, schedule a meeting between yourself and all parties involved in the rehab (subcontractors, etc). Use this time to go over everything in detail to make sure that everyone agrees on the time frame, project details, and the budget. Ask questions, listen to suggestions, and handle any disagreements at this time.Oversee the Rehab:
Now that you've got your contractor and your documents squared away, you want to ensure that all of the necessary permits are obtained. The kind of permits that you will require will depend on your location and the scale of your rehab. Generally, regardless of where you are located, you will need permits for work that includes re-roofing a property, placing a dumpster in front of the property, alterations made to load-bearing walls, and things of that nature.The penalties for not having your permits in place might be getting fined or having a lien placed on the property by local authorities. Once those things come into play, they start to negatively affect your profit potential; avoid all of that make sure that you're adhering to local regulations from the start.There are five stages that you will encounter when the rehab is underway:


Demolition and trash removal
Foundation / Framing problems
HVAC, electricity, and plumbing
Insulation
Trimming and Painting
Final Property Walk-through & Payments:
During the final property walkthrough, you want to be checking to make sure that your contractor did everything that was required of them. Despite how careful you may be, and how much faith you may have in your contractor, some things always go unnoticed. After you determine that everything is as it should be, you'll need to make arrangements for final inspections to ensure that the property is up to code. When the work is adequately completed and all inspections are passed, draft up your Final Waiver of Lien and have your contractor sign it. The last thing to do is to deliver the final payment for the job.


Staging & Open House:
The step of your rehab project is to get the property sold. This means that you make sure the property is cleaned out and ready to be staged. You want to stage the property because it paints the image for your potential buyer of what living in the house might look like. Both the interior and exterior of the property should be staged – the master bedroom, bathrooms, kitchen, lawns, fences, etc. Also, having a professional photographer come in to take photos of the space is helpful.At this point, you'll want to consider how you can spread the word to as many people as possible to get the property shown. What unique things can you do to help get the property sold? You want potential buyers to feel welcomed into the house and leave with a lasting impression. Hopefully, one that makes them want to come back.


Conclusion
Completing a real estate rehab takes a lot of work, but it is absolutely worth it in the end. Thinking about rehab projects in terms of the seven steps that I outlined above, makes the process easier to digest.The key to success for real estate investors is to do your due diligence, pay attention to detail, and to be informed about your job. Making your vision come to life is simple after that.