Wholesaling is the process of purchasing properties below market value with the intention of selling it to other real estate investors for a profit. A wholesale investor is different than your typical real estate investor because they never actually purchase and own a property. They essentially act as the middleman by bringing a seller and buyer together. If done right, wholesaling can be lucrative, with little time, risk, and capital required.
As I just mentioned, a few benefits of wholesaling include:
Immediate Profits – A lot of real estate investors are in the business of developing or rehabbing properties, which can be very time-consuming. Wholesaling, however, can produce profits within four to six weeks. That includes every step of the process from marketing to getting your check handed to you.
Low Personal Risks – Investing in real estate is a job that involves some level of risk. Wholesaling, on the other hand, entails a minimal amount of risk once you educate yourself on the process. Simply get a property under contract with a purchase and sales agreement, add an inspection contingency (gives you time to find a buyer and protect your money), put down an earnest money deposit anywhere from $500 - $1,000, and find a buyer to purchase the property.
Little Capital Needed – Most deals that you come across will not require you to rely on your credit score. So, if yours is horrible don't worry, you can still get deals done. I've never seen a situation where a motivated seller asks to see your credit, and as long as you can find a buyer to close on the property, you will be using their funds and not your own. In some situations, you may also use transactional funding or a hard money lender to finance a deal, but again, this is not your own capital.
Now that you know the benefits of wholesaling, we'll jump into the step by step break down of the wholesale process: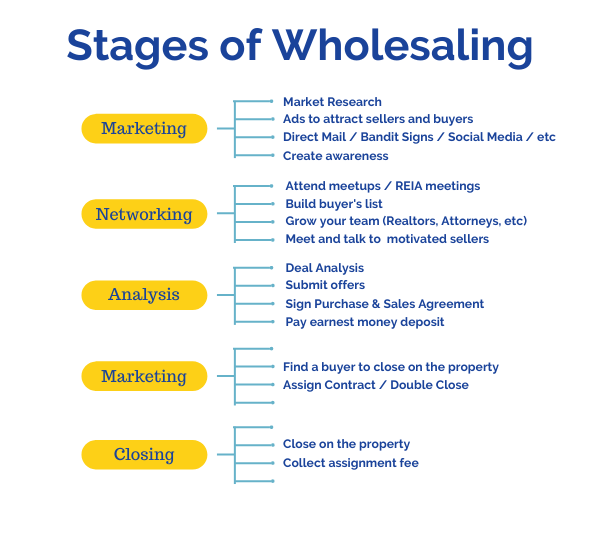 When it comes to wholesaling due diligence involves conducting market research and fine-tuning your strategy. That means that you need to educate yourself on the process of wholesaling (you are off to a great start since you're reading this). Every region does business a little differently so, it would be beneficial for you to attend local real estate investor meetups. Begin networking and building relationships with other investors within your market and learn what the process is like for them. It is always a good idea to ask those that have more experience than you what has and has not been working for them, that way you can avoid making some of the mistakes they did. Once you know the process you will be better equipped to do market research for your target locations and come up with a plan that makes sense.






Grow Your Buyers List
A buyer's list is a directory of individuals that may be interested in acquiring property from you. This includes rehabbers, homebuyers, landlords, etc. Building a list of names of potentially interested parties is no easy task, but it certainly puts you in a better position when the time comes to assign a contract or sell a property. In fact, it also helps you to negotiate your offer with confidence when you are speaking with motivated sellers because you already have buyers in mind and know the kinds of financing they have available to them. You can find potential buyers through a number of means such as attending real estate events, calling the numbers on bandit signs, Facebook groups, and craigslist to name a few.
Find Motivated Sellers
A motivated seller is essentially a homeowner that needs to sell their house. There are many different reasons that people seek to sell their properties from simply moving to another location to being behind on mortgage payments, or the property being in poor condition and them not having the financial means to take care of it anymore. It's important to note that every homeowner that decides to sell their house is not motivated. You will come across sellers that display little urgency and have the flexibility to wait around until they receive the amount they are looking for.
Dealing directly with motivated sellers is the best way to ensure that you can get a property under contract at a good price. You can find motivated sellers from listings that include information on probate properties, pre-foreclosures, absentee owners, and delinquent taxpayers. With these lists of names and contact information, you can start setting up a marketing campaign to target these specific groups. There are also a few different ways to market to motivated sellers as well such as via direct mail and online advertising.
Get a Property Under Contract
After you have secured a motivated seller, it is time to assess the property and make your offer. Should the seller accept your offer, you will have to negotiate the terms of the purchase and sales agreement and make sure that you are both on the same page. In order to protect your earnest money deposit and provide yourself with time to find a buyer, you will want to add an inspection clause in the contract. The inspection clause provides you with a set period of time to arrange for a home inspection, do your due diligence on the property, secure financing, and should you not find a buyer, you will be able to walk away from the deal with your deposit (as long as it is within your allotted timeframe).
Be sure to familiarize yourself with the legal process in advance to ensure that your paperwork and everything is on the up and up. You may even want to consider consulting with a legal professional to oversee the transaction.
Secure a Buyer
Once you have the property under contract your job is to find an interested buyer who you can assign the contract to. Depending on the condition of the property you will attract different types of buyers from the list that you created. If the property is in significant need of repairs you may choose to market that house to rehabbers versus if it is in decent condition, you may attract investors who are interested in making it a rental property. In order to attract buyers, you will need to provide them with sufficient information by pulling a list of comparable properties in the area, estimating the cost of repairs, getting a title report, and analyzing the potential profit to be gained off of that particular deal.
Note: There are also other exit strategies that you can use besides an assignment such as, double closing, pre-habbing, and creative financing options as well.
Assign the Contract
When you have found a qualified buyer, the next step is to create an assignment of contract agreement. It simply needs to state that you are assigning the contract to X person for an agreed-upon assignment fee and the required deposit amount. With the contract in place, there should be no misunderstandings and all parties are clear on what is happening. This step should not be complicated.
Closing
On closing day your end buyer should be present to sign all the appropriate paperwork. They should be prepared with all necessary documentation, payment for the property, as well as your assignment fee. Lastly, the title company will accept payment for the deal, and you will receive a check with your fee.
The wholesaling process is a relatively simple one once you know what you are doing. You are already setting yourself up for success by just reading this post. The key to continued success is to educate yourself on the business every chance that you get, network, and always do your due diligence.